Palo Alto Networks is partnering with some of the most demanding industries to ensure their data and critical infrastructure remain safe from targeted cyberattacks. These organizations have learned firsthand the power of a next-generation security platform when it comes to safely enabling the use of all applications, maintaining complete visibility and control, and confidently pursuing new business ventures, while protecting the organization from the latest cyberthreat. We invite you to explore the details of this platform.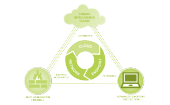 Integration Means Security.
Our natively integrated platform brings network, cloud and endpoint security into a common architecture, with complete visibility and control, ensuring your organization can detect and prevent attacks. This next-generation enterprise platform streamlines day-to-day operations and boosts security efficacy, and the one-of-a-kind, multi-layered defense model prevents threats at each stage of the attack kill chain.
Automatic and Awesome.
Focus your team on only the high-priority security events and let the Palo Alto Networks platform take care of the lower-priority congestion. An automated platform eliminates the need for expensive, manual processes and improves your organization's ability to quickly respond to new global threats. New threats are quickly detected and attacks are prevented — all without your best people spending hours manually monitoring endless pools of alerts.
Build the Ultimate Secure Enterprise.
Our Enterprise Security Platform protects every corner of your organization — safely enabling all applications and users — from their mobile devices to the very core of your hybrid cloud computing environment.
How Prepared
Are You?
Our Enterprise Security Platform protects every corner of your organization — from your mobile workers to the core of your cloud-enabled data center.